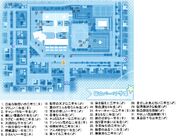 Questing involves getting a quest by speaking with the starting character, then locating and speaking to the target character, and finally returning to the starting character to complete the quest and collect your reward.
Some quests have prerequisite quests that must be completed before the quest can be started.
The map on the right shows the locations of the characters.
All information translated from aisp@ce Wikiwiki.
School Quests
Edit
Quest Name
Starting NPC
Location
Map
Reward
Target NPC
それ以前に
Before That
古風な物言いの二年生
Bus stop.
1
Pencil & Notebook
自分しか見えない二年生
Track.
28
その男、卑怯にて
りりしい二年生
To the Left of the school and bus stop
2
PCaisp@ce2008 (Black)
チャンバラな一年生
Second person on the Left at the school Gates
3
薔薇の男、光臨
Prereq:
その男、卑怯にて
美しい薔薇の三年生
Second person on the Left at the school Gates
4
1200D
りりしい二年生
To the Left of the school and bus stop
2 
植物好きな二年生
Northwest of Northwest school building
16
ねこみみストーカー?
Cat-Eared Stalker?
かわいい一年生
Near Southwest School Building
9 
Writing Paper x100
一般生徒な一年生
Southwest by bike racks
7 
ネコミミスキーな二年生
South of Northwest school building
14
忍者ごっこ?
Playing Ninja?
忍者な三年生
School building; Northwest
13
800D
秘密のある?二年生
Track.
26
伝言、伝言
テンション高めな二年生
Northwest of Northwest School Building
15 
800D
やさしい英語教師
Between Northwest school buildings east side
31
愛のポエムのCD
CD of Love Poems
キャーキャーな二年生
Between track and garden on school grounds
21
Writing Paper x100
愛のポエムを歌う三年生
Southwest of Northwest school building
11 
怪力の利用
Prereq:
愛のポエムのCD
数学の天才な二年生
West of Northwest School buildings
10 
1200D
笑ってる二年生
North of north school building
18
体を鍛えた三年生
North of north school building
19
熱血漢な二年生
North of north school building
20

ある男の悩み


Prereq:
それ以前に & 怪力の利用

無敵男な二年生
School track field
27 
800D
数学の天才な二年生
West of Northwest School buildings
10
漢(おとこ)、バカ一代
絵の好きな一年生
Fountain on school grounds
23 
Writing Paper x100
熱血漢な二年生
North of north school building
20 
何のDVD?
Prereq:
漢、バカ一代
アニメ好きな一年生
North of north school building
17
800D
絵の好きな一年生
Fountain on school grounds
23 
無くなった弁当
Missing Lunchbox
駄洒落好きな教師
School building; East-Center
29
1700D
熱血野郎な教師
情報通な一年生
噂話好き二年生
School building; East-Center
School building; Southwest corner
Shopping District; Central
30
8
N/A
Shopping Mall Quests
Edit
Quest Name
Starting NPC
Location
Map
Reward
Target NPC
寒中水泳する男の噂
短距離な一年生
Shopping mall center
NA
1700D

まともな二年生

全天候型な二年生

School grounds pool

School grounds track

22

25

ガリ勉の不覚
ガリ勉二年生
Shopping mall down alley to right of big screen
NA
1000D
やさしい英語教師
Between Northwest school buildings east side
31