To log on to ai sp@ce, you use your email address and password from the popular Japanese video-sharing site Nico Nico Douga.
If you don't have a Nico Nico Douga account, follow the instructions below.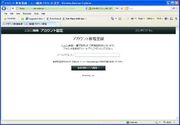 This link takes you to the beginning of free register.
It should look like the photo here and is asking to enter an email address.
The Second Page, should look like the 2nd image on the right.
The message at the top warns that information marked with a ★ is unchangeable.
The Form is as follows:
Edit
Nickname: 16 characters or less alike - all two-byte
---
★ Gender: male / woman
---
★ Date of Birth: Year / Month/ Day
---
Location:
(For this one, scroll to the bottom of the drop menu for Non-Japanese named places)
---
Password:
Re-Enter: 08 -16 alphanumeric characters
---
This last part is tricky, Its a secret Question set up.
You can do this two ways,
1)Try to decipher the drop down menu
2)Pick anything and make an answer up. (Just be sure to write down your secret answer somewhere!)
---
Click the first button after that to move on.
The second button is for going back and changing your e-mail address.
---
You should now be on the "Check Your Info and Read Our Terms and Prove You're Not A Robot" Page.
Enter in the Captcha, and hit the longer button below it.
---
This page asks you to go to your email and hit a verification link in the email.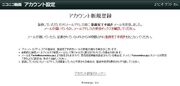 After clicking the link, it will open to a page telling you you're account is verified.
The number in there is your User I.D.
Save it if you want, but Im not sure it's important.
And now You're all done! You're a Registered NicoNico Member!
To log-in, you log-in with your E-mail and Password(Not Your Nickname!)