Setting OS Language
Before installing you need to set your system language for Japanese. If you have installed some Japanese games before, you may have already done this. An Engilsh system can work fine with this left on, but if you wish to turn it back, just follow the directions again and select English.
On Windows system, in the Start menu open your Controls Panel. Open Regional and Language Options.
There are 3 tabs in the window, select the 3rd on Advance. In panel for Language for non-unicode programs, use the drop-down menu and select Japanese.
Optional: You can also turn on the Language Bar in this control panel as well. This allows you to switch the output of your keyboard and alternate between English and Japanese. Helpfull if you know Japanese characters and wish to type them.
Download and install game
Edit
Download the install at http://aisp.jp/download/ When the download is finished run the install program, aisp_setup.exe

Click OK
Click Next button with "N". The far right button is Cancel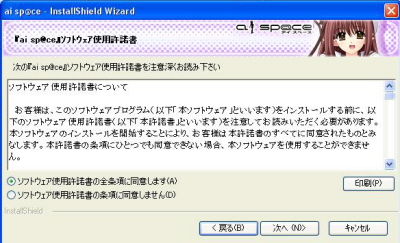 Click the upper radio button on the left to agree to licence, then next.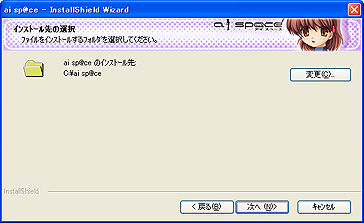 You can select where the game installs here. The default is C:\ai sp@ce. The upper right button opens dialog box to change location. Note with non-unicode setting did in languages before, '\' shows as '¥'
Click Next, the middle button.
Wait for install to complete. After this you may get a DirectX install option if you have not updated recently. Go ahead and follow the install for it if needed. There is a radio licence button and then Next on first sceen, then follow Next for following two screens. When that is finished you will get the following screen.
Click the final middle button for Done. There should be an ai sp@ce shortcut on your desktop now. Starting the program opens the News/Update window.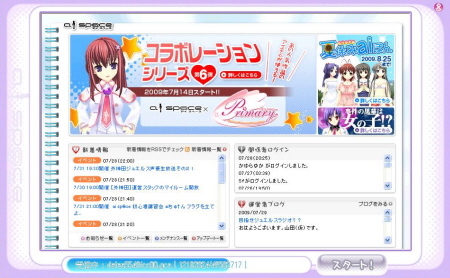 The first time opening it will download the rest of the content and latest patch as it is doing in picture above. The button on the right will hilight when download is finished. Click to start the game. During future openings of the game, if button is grayed out it may be getting ready to download a new patch, give it a moment. Or it may be displaying a message that the server is down, for example, a scheduled maintenance.
To learn about logging in for the first time, visit First Login.