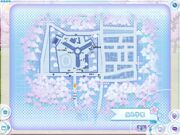 Questing involves getting a quest by speaking with the starting character, then locating and speaking to the target character, and finally returning to the starting character to complete the quest and collect your reward.
The map on the right shows the locations of the characters.
All information translated from aisp@ce Wikiwiki.
Quest Name
Starting NPC
Location
Map
Reward
Target NPC

クラスメイト全員集合

Classmates Meeting

目立たない付属三年生
Outside school, west of south gate
A1
1200D

食いしん坊な付属三年生

アイドル好きの付属三年生

ゲーム好きの付属三年生

North of track near building




South of track near fence




Outside school near north gate

A2

A3

A4

ストーカーを追え

Chase a Stalker

気の弱い付属二年生
Outside school, east of south gate
B1
PCaisp@ce2008
キザな付属二年生
Inside school, east of gate along fence
B2

ストーカー疑惑?

A Stalker Scandal?

気さくな付属二年生
Outside school, east of south gate near fence
C1

Pencil & Notebook

おとなしい付属二年生
School grounds, east of building
C2

玉砕!

Honorable Defeat!

ミーハーな付属二年生
Outside school, east of south gate near park
D1
700D
電車好きの付属二年生
Outside school, west of south gate, park side of street
D2

事件を未然に防ぐ?

Prevent A Case?

熱血漢な付属三年生
East side of school, basketball court
E1
700D
落ち着かない付属三年生
West edge of school, north of track
E2

続・事件を未然に防ぐ?

Sequel to Prevent A Case

真面目な本校二年生
East side of school, basketball court
F1
1000D

バスケが得意な付属二年生

写真好きの付属三年生

East side of school, basketball court





Northwest of building near stairs

F2




F3

恩には恩で

Favor For A Favor (Need to make 2 trips)

熱血な付属三年生
South end of school building by stairs
G1
1000D
熱血漢な付属三年生
East of school building, basketball court
G2

本の虫

A Bookworm

読書好きな付属二年生
East of shool building, south of basketball court
H1
Writing Paper x100
優等生な本校一年生
North of school south entrance
H2

音楽好きな二人

Two Musiclovers

音楽好きな付属一年生
Northeast of track field
I1
Writing Paper x100
演奏好きな付属一年生
Southeast grass/tree area on schoolgrounds
East of M2

出場者を捜せ

Look For The Participants

イベント好きの付属三年生
Northwest of track field
J1
700D
音楽好きな付属一年生
Northeast of track field
J2

ポエムなラブレター

A Love Poem

結構ドライな付属三年生
Northwest area of school, east of pool entrance
K1
Writing Paper x100
薔薇を愛する付属三年生
Outside school, east of south gate, parkside
K2
Shopping Mall Quests
Edit
落し物

A Lost Article

息抜き会社員
Shopping Mall, end of ally right of big screen
L1
1500D

黄昏の付属二年生

元気な付属二年生

Southeast of north school gate

South-southeast of school center quad

L2

L3

買い物のメモ

A Shopping Memo

買い物好きな本校二年生
Shopping Mall, in alley left of big screen
M1
1200D
猫好きな本校二年生
School grounds east of south gate
M2

祭りだ!

(Need to go through

contacts twice)

祭り好きな本校一年生
Shopping Mall, near left side stairs to big screen
N1
2000D

お祭り好きの付属三年生

イベント好きの付属三年生

数学嫌いな本校一年生

桜の木が好きな本校一年生

School grounds, east of center squad

Northwest of track field

Southeast of north school entrance

Outside school southwest corner

N2

N3

N4

N5